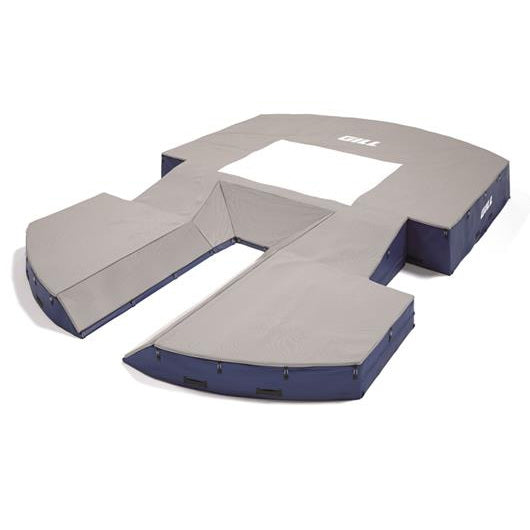 Gill AGX M4 Pole Vault Pit IAFF / NCAA / NFHS
Free Shipping!
Talk to an expert(888) 406-2544
$100 Price Match Guarantee Found a lower price? We'll match it! More info.

Gill AGX M4 Pole Vault Landing System for IAFF / NCAA / NFHS
The Gill AGX M4 Pole Vault Pit features a top of the line top pad that not only looks good, but functions well for athletes looking to step up their pole vault game. The AGX M4 also features a seamless design that eliminates spike contact with the base of the landing pad and unevenness, creating a safer environment for the athlete. 
 The AGX M4 comes with a state of the art 2" DuarLife™ foam cushion on the top pad, creating a safe and comfortable landing. This top pad is also reversible, allowing you to flip the pad over, helping extend the life of the pad. The vinyl base of the AGX M4 pit is waterproof and keeps water out of the pit, unlike other older pole vault pit models. 
Choose between different vinyl casings, pad colors, and pad weather covers (sold separately) to match your team's colors.
The Gill AGX M4 pole vault pit is built tough and is backed by a 12-year manufacturer's warranty so you can train with peace of mind. Order today and receive FREE freight shipping! 
Pole Vault Pit Features
Edge-To-Edge Top Pad: Aesthetic and functional design eliminates spike contact with base units and unevenness at the edge of the pit. This Gill exclusive feature will increase the life of your new pit and improve safety near the edges.
Tufmesh Plus Casing: Using exclusive 17 x 11 1000 denier material increases the life of your top pad and stands up to repeated use better than any on the market.
2" Duralife Foam: Soft and durable foam creates confidence in every practice. Coaches can teach with assurance because of this industry leading design.
V-Loop Vinyl Strap: Designed to evenly distribute the force from the athlete's landing, V-Loop straps eliminate tears compared to traditionally designed pits that put undue stress on the seams.
Reversible: Extend the life of your pit; Gill's top pads are designed to use either side safely and easily.
Side Carbineer Connection: 

Top Pad is connected to base pads with carbineer side attachments, eliminating any obstruction on top of the pit. This detail provides an obstruction-free landing area with athletes' safety in mind.
Pole Vault Pit Dimensions
21'6" W x 31'2" L x 32" H
Click Here To Download The 66817 Pole Vault Specification
Click Here To Download The 66817 Pole Vault IAAF Certificate