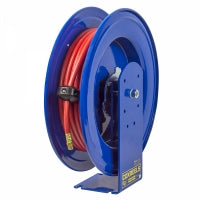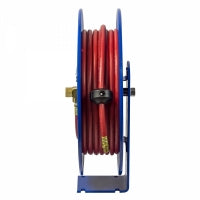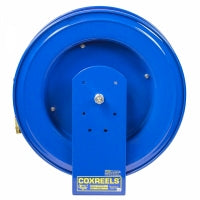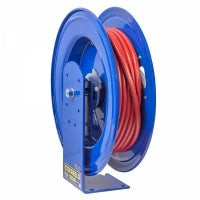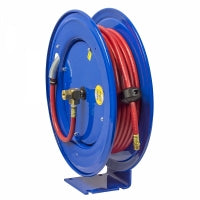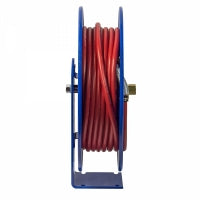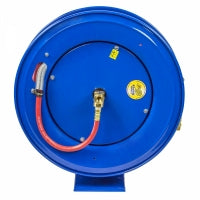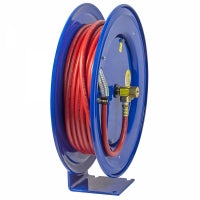 Coxreels EZ-E Series "Expandable" Medium Pressure Multiple Bank System
Free Shipping!
Talk to an expert(888) 406-2544
$100 Price Match Guarantee Found a lower price? We'll match it! More info.

EZ-E Series "Expandable" Medium Pressure Multiple Bank System
COXREELS® EZ-E Series "Expandable" multiple bank system is the pinnacle in professional appearance and organization. The cabinets are interlocking and expandable to any number of spring driven reel assemblies required. Designed for easy installation, maintenance and servicing the E Series.
Professional grade heavy duty steel construction.

Rolled edges & ribbed discs provide strength & safety.

Leading 2-year manufacturer's limited warranty.

Made in the U.S.A. - Sold & Supported Worldwide.
Features
SWIVEL - Machined from solid brass 90° full-flow NPT swivel for simple seal maintenance and fast and easy hose installation. No need to remove the reel from its mount.

EZ-COIL® EQUIPPED - Lubricated and enclosed cartridge-style motor is easily removable for safe and convenient maintenance. Coxreels patented safety system that retracts up to 80% slower than conventional reels.

CNC SPUN DISCS - Heavy duty CNC robotically spun and ribbed discs with rolled edges for greater strength, durability, hose protection and operator safety.

BANK SYSTEMS - Designed for expandable metal cabinets & multiple reel bank systems for professional appearance and organization.

OTHER FEATURES INCLUDE - long lasting, chip resistant and rust inhibiting CPC powder coat finish, adjustable solid rubber hose stop, multi-position lock ratchet mechanism, and lubricated precision bearings.
Specifications
| | | | | | | | | | |
| --- | --- | --- | --- | --- | --- | --- | --- | --- | --- |
| MODEL | I.D | O.D | LENGTH | HOSE | MAX PSI | SHIP WEIGHT (LBS) | OVERALL DIMENSIONS (W) (H) (L) | MOUNTING PATTERN (M) (N) | BASE (X) (Y) |
| EZ-E-MP-330 | 3/8" | 5/8" | 30' | No | 3000 | 47 | 6.13"(W) 18.25"(H) 17.25"(L) | 4"(M) 5"(N) | 5"(X) 6"(Y) |
| EZ-E-MP-350 | 3/8" | 5/8" | 50' | No | 3000 | 61 | 8.75"(W) 21"(H) 19.63"(L) | 4"(M) 5"(N) | 5"(X) 6"(Y) |
| EZ-E-MP-430 | 1/2" | 3/4" | 30' | No | 2500 | 47 | 6.13"(W) 18.25"(H) 17.25"(L) | 4"(M) 5"(N) | 5"(X) 6"(Y) |
| EZ-E-MP-450 | 1/2" | 3/4" | 50' | No | 2500 | 62 | 8.75"(W) 21"(H) 19.63"(L) | 4"(M) 5"(N) | 5"(X) 6"(Y) |
| EZ-E-MPL-330 | 3/8" | 5/8" | 30' | No | 3000 | 39 | 6.13"(W) 18.25"(H) 17.25"(L) | 4"(M) 5"(N) | 5"(X) 6"(Y) |
| EZ-E-MPL-350 | 3/8" | 5/8" | 50' | No | 3000 | 49 | 8.75"(W) 21"(H) 19.63"(L) | 4"(M) 5"(N) | 5"(X) 6"(Y) |
| EZ-E-MPL-430 | 1/2" | 3/4" | 30' | No | 2500 | 39 | 6.13"(W) 18.25"(H) 17.25"(L) | 4"(M) 5"(N) | 5"(X) 6"(Y) |
| EZ-E-MPL-450 | 1/2" | 3/4" | 50' | No | 2500 | 49 | 8.75"(W) 21"(H) 19.63"(L) | 4"(M) 5"(N) | 5"(X) 6"(Y) |