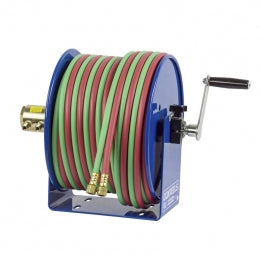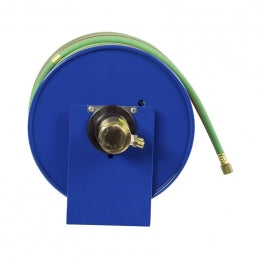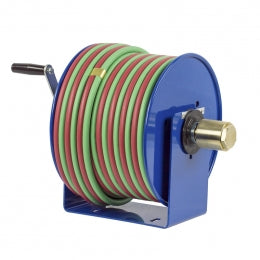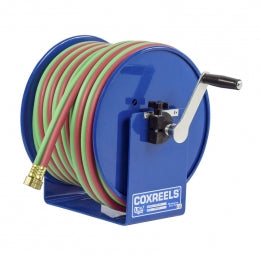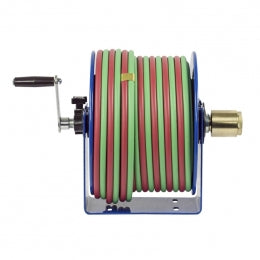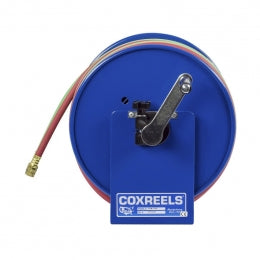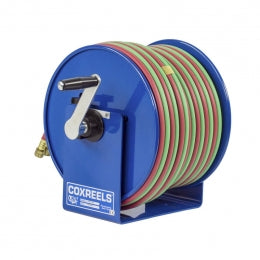 Coxreels 100W Series Low Pressure "Welding" Hand Crank Hose Reels
Free Shipping!
Talk to an expert(888) 406-2544
$100 Price Match Guarantee Found a lower price? We'll match it! More info.

100W Series Low Pressure "Welding" Hand Crank Hose Reels
COXREELS® 100W Series "Welding" hand crank hose reels are lightweight, compact and versatile. Save time and effort while increasing the safety of your work environment. The sturdy "U" shaped frame and all steel construction make this one tough little reel. All listed models are supplied less hose.
Professional grade heavy duty steel construction.

Rolled edges & ribbed discs provide strength & safety.

Leading 2-year manufacturer's limited warranty.

Made in the U.S.A.

 

- Sold & Supported Worldwide.
Features
WELDING GAS SWIVEL

 

- External 90º full-flow dual ported brass swivel with VITON

®

 

seals offering both connections from the same side of the reel. No need to remove the reel from its mount.
U SHAPED FRAME DESIGN

 

- Solid one piece heavy gauge all steel U shaped frame. Professional grade, compact, lightweight and simple design.
CNC SPUN DISCS

 

- Heavy duty CNC robotically spun and ribbed discs with rolled edges for greater strength, durability, hose protection and operator safety.
ADJUSTABLE TENSION BRAKE

 

- Tension brake adjusts the speed of the draw to your desired preference and prevents your reel from free wheeling during operation, transport or storage.
STEEL CONSTRUCTION 

- High quality steel construction provides superior strength and durability for heavy duty applications in commercial and industrial settings.
OTHER FEATURES INCLUDE

 

- long lasting, chip resistant and rust inhibiting CPC powder coat finish, composite bearing for smooth rotation and direct hand crank for easy mechanical retraction.
Specifications
| | | | | | | | | | |
| --- | --- | --- | --- | --- | --- | --- | --- | --- | --- |
| MODEL | I.D | O.D | LENGTH | HOSE | MAX PSI | SHIP WEIGHT (LBS) | OVERALL DIMENSIONS (W) (H) (L) | MOUNTING PATTERN (M) (N) | BASE (X) (Y) |
| 112W-1-100 | 1/4" | 1/4" | 100' | Yes | 200 | 37 | 18.75"(W) 13"(H) 12"(L) | 5.5"(M) 3"(N) | 9.5"(X) 6"(Y) |
| 112W-1-50 | 1/4" | 1/4" | 50' | Yes | 200 | 28 | 15.5"(W) 13"(H) 12"(L) | 4"(M) 3"(N) | 6"(X) 6"(Y) |
| 112WL-1-100 | 1/4" | 1/4" | 100' | No | 200 | 18 | 18.75"(W) 13"(H) 12"(L) | 5.5"(M) 3"(N) | 9.5"(X) 6"(Y) |
| 112WL-1-50 | 1/4" | 1/4" | 50' | No | 200 | 18 | 15.5"(W) 13"(H) 12"(L) | 4"(M) 3"(N) | 6"(X) 6"(Y) |
| 112WT-1-100 | 1/4" | 1/4" | 100' | Yes | 200 | 37 | 18.75"(W) 13"(H) 12"(L) | 5.5"(M) 3"(N) | 9.5"(X) 6"(Y) |
| 112WT-1-50 | 1/4" | 1/4" | 50' | Yes | 200 | 28 | 15.25"(W) 13"(H) 12"(L) | 4"(M) 3"(N) | 6"(X) 6"(Y) |
| 117W-1-200 | 1/4" | 1/4" | 200' | Yes | 200 | 68 | 18.75"(W) 18"(H) 17"(L) | 5.5"(M) 3"(N) | 9.5"(X) 6"(Y) |
| 117WL-1-200 | 1/4" | 1/4" | 200' | No | 200 | 30 | 18.75"(W) 18"(H) 17"(L) | 5.5"(M) 3"(N) | 9.5"(X) 6"(Y) |
| 117WT-1-200 | 1/4" | 1/4" | 200' | Yes | 200 | 68 | 18.25"(W) 18"(H) 17"(L) | 5.5"(M) 3"(N) | 9.5"(X) 6"(Y) |