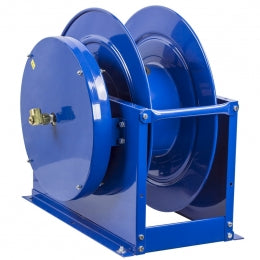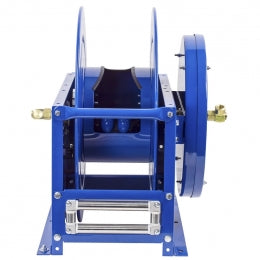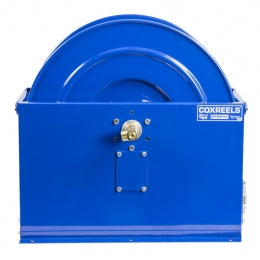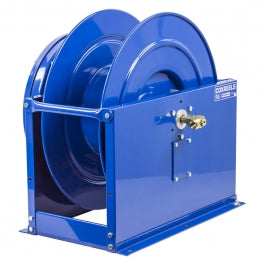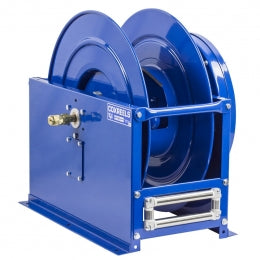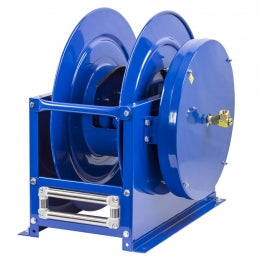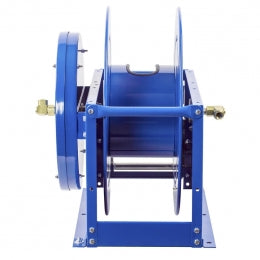 Coxreels DP Series "Dual Product Delivery" Low-Pressure Spring Driven Hose Reels
Free Shipping!
Talk to an expert(888) 406-2544
$100 Price Match Guarantee Found a lower price? We'll match it! More info.

DP Series "Dual Product Delivery" Low-Pressure Spring Driven Hose Reels
COXREELS® DP Series "Dual Product Delivery" spring driven hose reels have two swivel inlets and two outlets for dual hose applications. Like the SP Series they are built to handle large hose diameters used in applications demanding large volume delivery in low and medium pressures. The sturdy box-style frame has heavy duty steel cross supports to all four corners for extra strength and rigidity.
Professional grade heavy duty steel construction
Rolled edges & ribbed discs provide strength & safety
Leading 2-year manufacturer's limited warranty
Made in the U.S.A. - Sold & Supported Worldwide
Features
SWIVEL - Two external fluid paths with machined solid brass 90º full-flow NPT swivel inlets for simple seal maintenance and fast and easy hose installation. No need to remove the reel from its mount.
CARTRIDGE MOTOR - Lubricated and enclosed cartridge-style motor is easily removable for safe and convenient maintenance.
CNC SPUN DISCS - Heavy duty CNC robotically spun and ribbed discs with rolled edges for greater strength, durability, hose protection and operator safety.
BOX STYLE FRAME DESIGN - Sturdy and reinforced steel box-style frame design with two inlets and two outlets to handle dual hose applications.
OULET RISER - Exclusive low profile outlet riser and open drum slot design provides a non-crimping, flat smooth hose wrap.
OTHER FEATURES INCLUDE - long lasting, chip resistant and rust inhibiting CPC powder coat finish, heavy duty stainless steel pinch-proof rollers, stainless steel pawl spring, and long lasting self lubricated flange bearings.
Specifications
| | | | | | | | | | |
| --- | --- | --- | --- | --- | --- | --- | --- | --- | --- |
| MODEL | I.D | O.D | LENGTH | HOSE | MAX PSI | SHIP WEIGHT (LBS) | OVERALL DIMENSIONS (W) (H) (L) | MOUNTING PATTERN (M) (N) | BASE (X) (Y) |
| DLPL-3100 | 3/8" | 3/4" | 100' | No | 300 | 117 | 21.5"(W) 24.5"(H) 26.38"(L) | 14"(M) 22"(N) | 15.38"(X) 25"(Y) |
| DLPL-350 | 3/8" | 3/4" | 50' | No | 300 | 94 | 21.5"(W) 20.5"(H) 22.88"(L) | 14"(M) 22"(N) | 15.38"(X) 21.5"(Y) |
| DLPL-375 | 3/8" | 3/4" | 75' | No | 300 | 115 | 21.5"(W) 20.5"(H) 22.88"(L) | 14"(M) 22"(N) | 15.38"(X) 21.5"(Y) |
| DLPL-4100 | 1/2" | 7/8" | 100' | No | 300 | 138 | 21.5"(W) 28.5"(H) 30.38"(L) | 14"(M) 22"(N) | 15.38"(X) 29"(Y) |
| DLPL-450 | 1/2" | 7/8" | 50' | No | 300 | 97 | 21.5"(W) 20.5"(H) 22.88"(L) | 14"(M) 22"(N) | 15.38"(X) 21.5"(Y) |
| DLPL-475 | 1/2" | 7/8" | 75' | No | 300 | 104 | 21.5"(W) 24.5"(H) 26.38"(L) | 14"(M) 22"(N) | 15.38"(X) 25"(Y) |
| DLPL-525 | 3/4" | 1 1/4" | 25' | No | 300 | 93 | 23.88"(W) 20.5"(H) 22.88"(L) | 14"(M) 22"(N) | 15.38"(X) 21.5"(Y) |
| DLPL-550 | 3/4" | 1 1/4" | 50' | No | 300 | 100 | 23.88"(W) 24.5"(H) 26.38"(L) | 14"(M) 22"(N) | 15.38"(X) 25"(Y) |