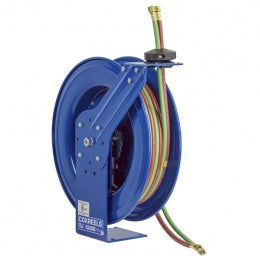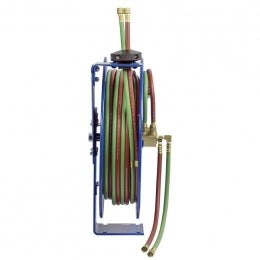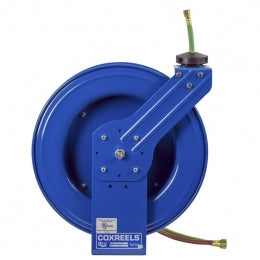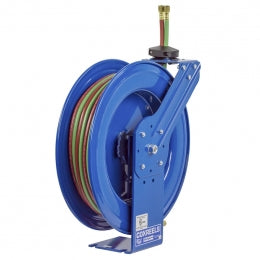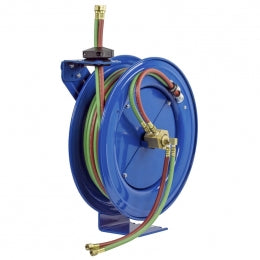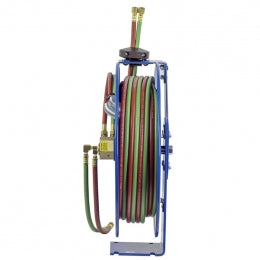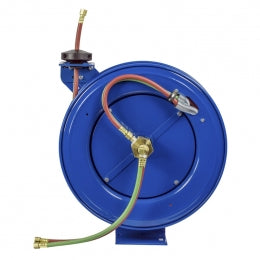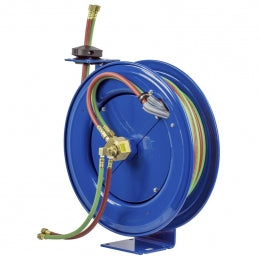 Coxreels SHW Series Spring Driven "Welding" Low Pressure Hose Reels
Free Shipping!
Talk to an expert(888) 406-2544
$100 Price Match Guarantee Found a lower price? We'll match it! More info.

SHW Series Spring Driven "Welding" Low Pressure Hose Reels 
COXREELS® SHW Series spring driven "Welding" hose reels is the ideal solution for managing bulky twin line welding hose The SHW Series has a larger chassis and frame than P-W Series to accommodate longer lengths of welding hose and Coxreels' original Super Hub dual axle support system for increased stability during operation, less vibration and greater structural integrity.
Professional grade heavy duty steel construction

Rolled edges & ribbed discs provide strength & safety

Leading 2-year manufacturer's limited warranty

Made in the U.S.A. - Sold & Supported Worldwide
Features
WELDING GAS SWIVEL - External 90º full-flow dual ported brass swivel with VITON® seals offering both connections from the same side of the reel. No need to remove the reel from its mount.

CARTRIDGE MOTOR - Lubricated and enclosed cartridge-style motor is easily removable for safe and convenient maintenance.

CNC SPUN DISCS - Heavy duty CNC robotically spun and ribbed discs with rolled edges for greater strength, durability, hose protection and operator safety.

1/4" STEEL BASE - Sturdy single pedestal design with solid one piece steel base and support post, no weld, for maximum stability. Equipped with Coxreels exclusive super hub™ dual axle support

MULTI-POSITION GUIDE ARM - Versatile guide arm adjusts to wall, floor, ceiling, and vehicle mounting positions.

OTHER FEATURES INCLUDE - long lasting, chip resistant and rust inhibiting CPC powder coat finish, adjustable solid rubber hose stop, oxy-acetylene or "T" grade welding hose, and sturdy permanently lubricated precision bearings.
Specifications
| | | | | | | | | |
| --- | --- | --- | --- | --- | --- | --- | --- | --- |
| MODEL | I.D | LENGTH | HOSE | MAX PSI | SHIP WEIGHT (LBS) | OVERALL DIMENSIONS (W) (H) (L) | MOUNTING PATTERN (M) (N) | BASE (X) (Y) |
| SHW-N-1100 | 1/4" | 100' | Yes | 200 | 84 | 10.25"(W) 25.5"(H) 24"(L) | 4"(M) 5"(N) | 6"(X) 6"(Y) |
| SHW-N-150 | 1/4" | 50' | Yes | 200 | 64 | 10.25"(W) 21.25"(H) 19.5"(L) | 4"(M) 5"(N) | 6"(X) 6"(Y) |
| SHW-N-160 | 1/4" | 60' | Yes | 200 | 76 | 10.25"(W) 25.5"(H) 24"(L) | 4"(M) 5"(N) | 6"(X) 6"(Y) |
| SHW-N-175 | 1/4" | 75' | Yes | 200 | 80 | 10.25"(W) 25.5"(H) 24"(L) | 4"(M) 5"(N) | 6"(X) 6"(Y) |
| SHWL-N-1100 | 1/4" | 100' | No | 200 | 62 | 10.25"(W) 25.5"(H) 24"(L) | 4"(M) 5"(N) | 6"(X) 6"(Y) |
| SHWL-N-150 | 1/4" | 50' | No | 200 | 52 | 10.25"(W) 21.25"(H) 19.5"(L) | 4"(M) 5"(N) | 6"(X) 6"(Y) |
| SHWL-N-160 | 1/4" | 60' | No | 200 | 61 | 10.25"(W) 25.5"(H) 24"(L) | 4"(M) 5"(N) | 6"(X) 6"(Y) |
| SHWL-N-175 | 1/4" | 75' | No | 200 | 63 | 10.25"(W) 25.5"(H) 24"(L) | 4"(M) 5"(N) | 6"(X) 6"(Y) |
| SHWT-N-1100 | 1/4" | 100' | Yes | 200 | 84 | 10.25"(W) 25.5"(H) 24"(L) | 4"(M) 5"(N) | 6"(X) 6"(Y) |
| SHWT-N-150 | 1/4" | 50' | Yes | 200 | 64 | 10.25"(W) 21.25"(H) 19.5"(L) | 4"(M) 5"(N) | 6"(X) 6"(Y) |
| SHWT-N-175 | 1/4" | 75' | Yes | 200 | 80 | 10.25"(W) 25.5"(H) 24"(L) | 4"(M) 5"(N) | 6"(X) 6"(Y) |
| SHWTL-N-1100 | 1/4" | 100' | No | 200 | 62 | 10.25"(W) 25.5"(H) 24"(L) | 4"(M) 5"(N) | 6"(X) 6"(Y) |
| SHWTL-N-150 | 1/4" | 50' | No | 200 | 52 | 10.25"(W) 21.25"(H) 19.5"(L) | 4"(M) 5"(N) | 6"(X) 6"(Y) |
| SHWTL-N-175 | 1/4" | 75' | No | 200 | 63 | 10.25"(W) 25.5"(H) 24"(L) | 4"(M) 5"(N) | 6"(X) 6"(Y) |