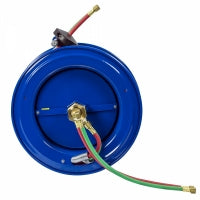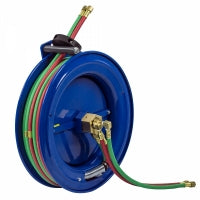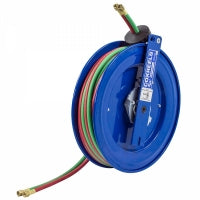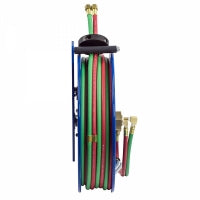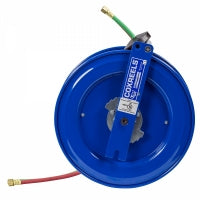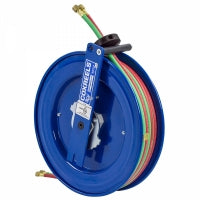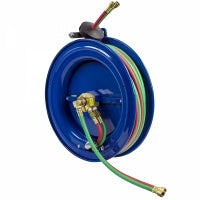 Coxreels SW Series "Side Mount" Low Pressure Spring Driven Hose Reels
Free Shipping!
Talk to an expert(888) 406-2544
$100 Price Match Guarantee Found a lower price? We'll match it! More info.

SW Series "Side Mount" Low Pressure Spring Driven Hose Reels
COXREELS® SW Series " Side Mount" spring driven hose reels for cabinet mount are compact, versatile and unique in the way they mount and operate. They feature a simple two-bolt mounting pattern for easy installation and detachment for multiple workstation applications. SW Series is available for oxy-acetylene and T Grade gas welding hose. The 360° hose direction allows the user to operate the reel in any direction the job demands. Common applications include service units, tool benches, tool boxes, vertical walls and beams, vehicle lift systems, machine tools, service vehicles or any flat vertical surface.
Professional grade heavy duty steel construction

Rolled edges & ribbed discs provide strength & safety

Leading 2-year manufacturer's limited warranty

Made in the U.S.A. - Sold & Supported Worldwide
Features
WELDING GAS SWIVEL - External 90º full-flow dual ported brass swivel with VITON seals offering both connections from the same side of the reel. No need to remove the reel from its mount.

CARTRIDGE MOTOR - Lubricated and enclosed cartridge-style motor is easily removable for safe and convenient maintenance.

CNC SPUN DISCS - Heavy duty CNC robotically spun and ribbed discs with rolled edges for greater strength, durability, hose protection and operator safety.

SIDE MOUNT DESIGN - Mount left for vertical flat surface, cabinet or enclosed space mounts. 2-bolt mounting pattern easily mounts and detaches for temporary or permanent installation.

CONTROL BAR - Hose control bar prevents hose from slipping off the disc.

OTHER FEATURES INCLUDE - Long lasting, chip resistant and rust inhibiting CPC powder coat finish, oxygen-acetylene or "T" grade welding hose, adjustable solid rubber hose stop, and sturdy permanently lubricated precision bearings.
Specifications
| | | | | | | | | |
| --- | --- | --- | --- | --- | --- | --- | --- | --- |
| MODEL | I.D | LENGTH | HOSE | MAX PSI | SHIP WEIGHT (LBS) | OVERALL DIMENSIONS (W) (H) (L) | MOUNTING PATTERN (M) (N) | BASE (X) (Y) |
| SL17W-150 | 1/4" | 50' | Yes | 200 | 38 | 7.88"(W) 18.25"(H) 17"(L) | 13"(M) -"(N) | -"(X) 2.5"(Y) |
| SL17WL-150 | 1/4" | 50' | No | 200 | 26 | 7.88"(W) 18.25"(H) 17"(L) | 13"(M) -"(N) | -"(X) 2.5"(Y) |
| SL17WT-150 | 1/4" | 50' | Yes | 200 | 38 | 7.88"(W) 18.25"(H) 17"(L) | 13"(M) -"(N) | -"(X) 2.5"(Y) |
| SL17WTL-150 | 1/4" | 50' | No | 200 | 26 | 7.88"(W) 18.25"(H) 17"(L) | 13"(M) -"(N) | -"(X) 2.5"(Y) |
| SL19W-175 | 1/4" | 50' | Yes | 200 | 53 | 9.5"(W) 20.88"(H) 19.5"(L) | 14.25"(M) -"(N) | -"(X) 2.5"(Y) |
| SL19WL-175 | 1/4" | 75' | No | 200 | 36 | 9.5"(W) 20.88"(H) 19.5"(L) | 14.25"(M) -"(N) | -"(X) 2.5"(Y) |
| SL19WT-175 | 1/4" | 75' | Yes | 200 | 53 | 9.5"(W) 20.88"(H) 19.5"(L) | 14.25"(M) -"(N) | -"(X) 2.5"(Y) |
| SL19WTL-175 | 1/4" | 75' | No | 200 | 36 | 9.5"(W) 20.88"(H) 19.5"(L) | 14.25"(M) -"(N) | -"(X) 2.5"(Y) |
| SR17W-150 | 1/4" | 50' | Yes | 200 | 38 | 7.88"(W) 18.25"(H) 17"(L) | 13"(M) -"(N) | -"(X) 2.5"(Y) |
| SR17WL-150 | 1/4" | 50' | No | 200 | 26 | 7.88"(W) 18.25"(H) 17"(L) | 13"(M) -"(N) | -"(X) 2.5"(Y) |
| SR17WT-150 | 1/4" | 50' | Yes | 200 | 38 | 7.88"(W) 18.25"(H) 17"(L) | 13"(M) -"(N) | -"(X) 2.5"(Y) |
| SR17WTL-150 | 1/4" | 75' | No | 200 | 26 | 7.88"(W) 18.25"(H) 17"(L) | 13"(M) -"(N) | -"(X) 2.5"(Y) |
| SR19W-175 | 1/4" | 75' | Yes | 200 | 53 | 9.5"(W) 20.88"(H) 19.5"(L) | 14.25"(M) -"(N) | -"(X) 2.5"(Y) |
| SR19WL-175 | 1/4" | 75' | No | 200 | 36 | 9.5"(W) 20.88"(H) 19.5"(L) | 14.25"(M) -"(N) | -"(X) 2.5"(Y) |
| SR19WT-175 | 1/4" | 75' | Yes | 200 | 53 | 9.5"(W) 20.88"(H) 19.5"(L) | 14.25"(M) -"(N) | -"(X) 2.5"(Y) |
| SR19WTL-175 | 1/4" | 75' | No | 200 | 36 | 9.5"(W) 20.88"(H) 19.5"(L) | 14.25"(M) -"(N) | -"(X) 2.5"(Y) |