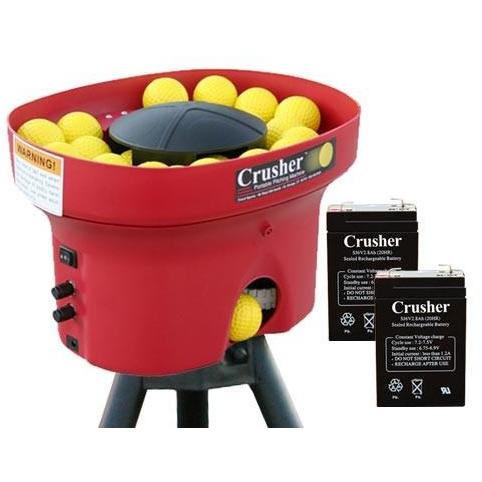 Heater Sports Crusher Curve & 8 Hr. Batteries CR169
Free Shipping!
Talk to an expert(888) 406-2544
$100 Price Match Guarantee Found a lower price? We'll match it! More info.

Heater Sports Crusher Curve & 8 Hr. Batteries
Hit Mini Lite-Balls With Pin-Point AccuracyHitting a real baseball takes skill, but imagine the skill required to hit a ball the size of a golf ball.Now, with the Crusher 8 Hour Mini Lite-Ball Pitching Machine, you can train your eye to hit a ball approximately two-thirds smaller than a real baseball. Use the included A/C Power Adapter, or when power is not available, use the included 8 Hour Rechargeable Batteries. With the Crusher's Dual Wheel Variable Speed Controls you can hit curve balls and fastballs. Take the Crusher 8 hour anywhere you want, set it up, and swing away. And if you can hit this mini ball, imagine how well you'll hit a real ball when you step up to the plate. And because the Crusher Lite-Balls are soft, and the Crusher 8 Hour has a rechargeable batteries, you can improve your hitting anywhere. Use in the garage, park or your own backyard.
Features
Pitches Fastballs & Curve Balls
Dual Wheel Variable Speed Control
Two 4 Hour Rechargeable Batteries (8 Hours Total)
Pitches Up To 45 MPH
Adjustable Pitch Height
2 Dozen Ball Automatic Feeder
Tubular Steel Legs with Rubber Tips
Uses Standard A/C Power
Built-in Battery Compartments for 4 or 8 Hour BatteriesBenefits
Dual Speed Controls Pitches Curve Balls & Fastballs
Take Anywhere 8 Hour Rechargeable Batteries
Speed Control adjusts for a variety of pitch speeds
Fully Enclosed Wheels provide maximum safety
Ball Hooper holds 2 Dozen Mini Lite-Balls
Auto-Ball Feeder pitches every 9 seconds
Strong Steel Legs for stability
Key Specs:
Model #: CR169
Two 4 Hour Rechargeable Crusher Batteries
A/C Power
Recommended Ages: 8 years to Adult
One Year Warranty
Mini Lite-Ball Pitching Machine