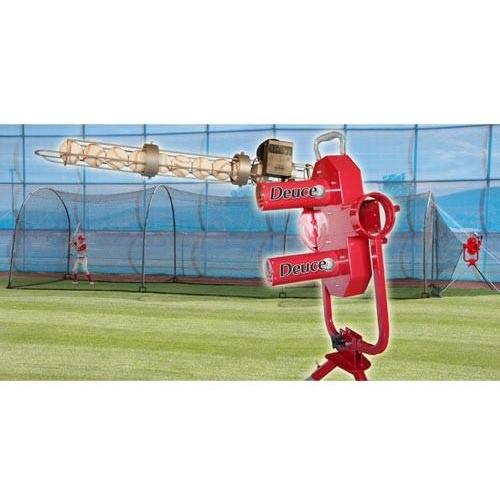 Heater Sports Deuce Pitching Machine & Xtender 36' Batting Cage
Free Shipping!
Talk to an expert(888) 406-2544
$100 Price Match Guarantee Found a lower price? We'll match it! More info.

Heater Sports Deuce 75 MPH Pitching Machine & Xtender 36' Backyard/Home Residential Batting Cage DC1199
Ready to take your BP game to a whole other level? Are you tired of having to pay big money to go to the batting cages every week? Worry no more. The Deuce pitching machine and the Xtender 36' backyard batting cage duo is the prefect solution to all your BP woes. The Deuce Pitching machine features an innovative pivot-head pitching design that throws breaking balls, inside breaking balls, and fast balls up to 75 MPH. With this variety of pitches and pitch speeds, you will be hitting like a pro in no time. The Deuce also comes with an auto ball feeder that can hold up to 12 baseballs and pitches at intervals of 10 seconds. That's 2 minutes of straight hitting with every round! When the auto feeder runs out, just simply refill it and keep playing. The Deuce plugs directly into any standard wall outlet or use it with the optional RollingPower battery packs when convenient. Just plug and play!
Your Very Own Backyard Batting Cage
The Xtender 36' Home Batting cage is perfect for any backyard or compact outdoor space! The Xtender batting cages are very lightweight, durable and easy to setup! In fact, these are so light that we ship them via UPS, not by freight trucks, which makes the shipping FREE! This batting cage is 36' X 12' x 10', making for a compact batting cage. The Xtender comes with a built in connection harness that easily attaches to the Deuce pitching machine. This allows baseballs into the cage, but they won't fly out. This revolutionary connection harness allows you to hit real baseballs at home without fear of damage to anyone or anything. 
Here's What You Get
Deuce – Two Wheel Fast Ball & Breaking Ball Pitching Machine
1 Poly Pitching Machine Baseball for perfect baseball accuracy
12 Ball Auto-Ball Feeder delivers 1 ball every 10 seconds
Dual Variable speed control & dual bearing electric motors pitches baseballs up to 75 mph.
Two 8" Wheels cushion the balls and pitches consistent strikes every time
Rugged composite pitching machine housing to protect you from spinning wheels
Adjustable pitch height knob to get the pitch height you want.
Heavy-duty tubular steel tripod stand with pushpin legs for quick assembly
Built-in machine harness attaches to Trend Sports home batting cages
Xtender 36' x 12' x 10' Home Batting Cage
Specs:
Model #: DC1199
Baseball & Softball Pitching Machine
A/C Power• 36' x 12' x 10' Home Batting Cage
Recommended Ages: 8 years to Adult
One Year Warranty