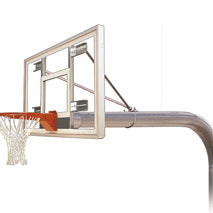 First Team Brute Select In-ground Fixed Height Hoop - 60 Inch Acrylic
Free Shipping!
Talk to an expert(888) 406-2544
$100 Price Match Guarantee Found a lower price? We'll match it! More info.

Brute Select In-ground Fixed Height Hoop - 60 Inch Acrylic
The Brute Select Fixed Height Basketball Goal is an outdoor hoop system that sports an acrylic backboard, flex goal and inground post. It is designed for outdoor installation and will have no problem surviving a Canadian winter or a Brazilian summer. The goal and backboard combination boasts superior quality with its durability.
The Brute Post System used for this hoop is built to last. The 5 9/16" diameter galvanized post is installed deep in the ground. This post is the backbone of all Brute hoops. As long as you're not planning on playing basketball in a Hummer, this hoop is going to survive. The post is connected to you backboard by a unique nosecone style backboard mounting mechanism. This will insure that you still have a hoop connected to your post after years of play. 72 inches of run-out room are provided by the post design. Safety and quality court play are highlighted by this feature. There are also backboard and post pads available.

The Select model comes with a FT220 36"x60" Acrylic Backboard that is design for quality outdoor basketball. The acrylic has been weather proofed without sacrificing the glass-like qualities that mimic indoor hoops. This model is a little smaller than a professional backboard, which makes transportation, installation, and space concerns easy to deal with. The backboard is supported by a heavy anodized aluminum framework, and the ½ inch of acrylic won't be cracking or breaking anytime soon. Feel free to play as hard and as long as you need to perfect your game.

The Select also comes with a FT186 Heavy Duty Flex Goal that can take a beating. Its 3/16" steel rim support prevents bending without the rigidity of cheaper outdoor rims. The durable powdercoat finish and outdoor design means rim replacement is not something you're going to have to worry about.

Bottom Line:  The Brute Select Fixed Height Basketball Goal is perfect if you need a quality outdoor hoop system that can stand up to severe weather conditions and picky players.

Includes:
FT1905 Brute Post System
FT1905NC Brute Nose-cone
FT36 Silver Support Structure
FT220 36"x60" Acrylic Backboard
FT186 Heavy Duty Flex Goal
Lifetime Unconditional Warranty