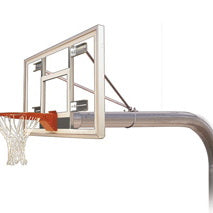 First Team Brute Supreme In-ground Fixed Height Hoop - 72 Inch Acrylic
Free Shipping!
Talk to an expert(888) 406-2544
$100 Price Match Guarantee Found a lower price? We'll match it! More info.

Brute Supreme In-ground Fixed Height Hoop - 72 Inch Acrylic
The Brute Supreme Fixed Height Basketball Goal is a top-of-the-line outdoor hoop system. This is an inground system that boasts superior stability and a weather resistant design. The goal and backboard are professional grade while still maintaining the toughness that's necessary for a system installed in a public venue.
The Brute Post System is one of the best on the market. A 5 9/16" diameter galvanized post is installed in the ground, and a unique nosecone style backboard mounting makes installation easy and durability guaranteed. This system can take some serious punishment. The post extension allows for 72 inches of run-out room. This means players won't be running into the pole after driving to the hoop, and it gives the court a more realistic feel. Any outdoors hoop system should be anchored by a Brute post.

The Supreme model comes equipped with a FT222 42"x72" Acrylic Backboard. The size and quality of this backboard will blow any other outdoor hoops out of the water. This is the kind of backboard you're going to see the professionals playing on. It's held in place with a competition grade anodized aluminum frame and supported by a FT42 Silver Support Structure. It may look like a pro backboard, but the ½ inch of acrylic insures that cracks and breaks aren't going to be happening in even the most severe weather conditions.

The Supreme also comes with a FT186 Heavy Duty Flex Goal that fits right in with the high-caliber design of this hoop system. The flex and 3/16" steel rim support give it a realistic rebound. The enclosed mechanism and durable powdercoat finish keep it safe from the elements. This is the rare rim that can stand up to a Shaq dunk and still be soft enough to allow a Ray Allen 3-pointer to bounce into the net.

Bottom Line:  The Brute Supreme Fixed Height Basketball Goal is perfect if you're looking for a gymnasium feel on your playground or park court. The backboard is pro-sized acrylic and the rim is flexible without being fragile.

Includes:
FT1905 Brute Post System
FT1905NC Brute Nose-cone
FT42 Silver Support Structure
FT222 42"x72" Acrylic Backboard
FT186 Heavy Duty Flex Goal
Lifetime Unconditional Warranty