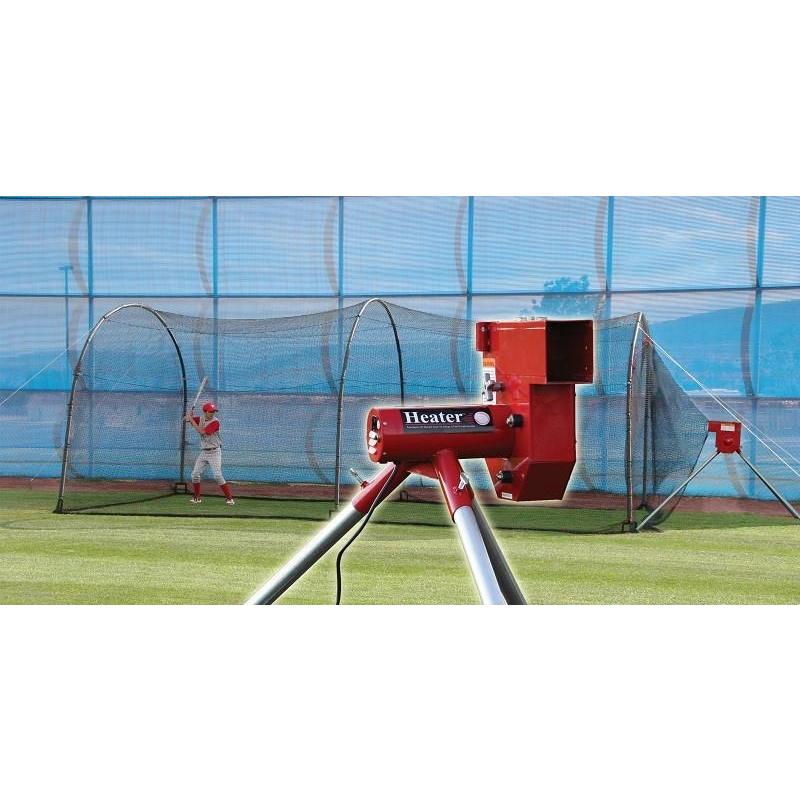 Heater Baseball Pitching Machine And Xtender 24' Home Batting Cage
Free Shipping!
Talk to an expert(888) 406-2544
$100 Price Match Guarantee Found a lower price? We'll match it! More info.

Heater Baseball Pitching Machine & Xtender 24' Backyard Batting Cage
Are you tired of having to drive all the way to the batting cages and pay so much every time you want to practice? Lucky for you, the Heater pitching machine and Xtender 24' combo is the answer to all your BP problems! The Xtender Batting Cage and Heater Pitching Machine is the most revolutionary batting cage ever developed! Never before have you been able to purchase a complete batting cage and have it shipped directly to your door via UPS. This is the most lightweight and durable pitching machine and batting cage combo on the market! 
Heater Pitching Machine
The Heater Baseball machine is a very lightweight pitching machine with throwing capabilities up to 52 MPH! With this machine you will be able to pitch and different speeds which is perfect for different skill levels, and to keep the batter's eyes sharp! With adjustable height capabilities, batters of any height can properly use this machine. The pitching machine also features an enclosed pitching wheel for maximum safety! This machine also throws line drives, grounders and pop flies for infield and outfield drills! Simply tilt the machine up or down, and hone in on your fielding skills! 
Heater Baseball Machine Features
Throws Pop-ups, Line Drives, and Grounders
Variable Speed Control
Pitches Baseballs Up To 52 MPH
Fully Enclosed Wheel
Adjustable Pitch Height
Tubular Steel Legs with Rubber Tips
Uses Standard A/C PowerBenefits
Adjustable Speed Control adjusts for a variety of pitch speeds
Fully Enclosed Wheel provides maximum safety
Strong Steel Legs for Stability
Xtender 24' Backyard Batting Cage
The Xtender 24' Home batting cage is an awesome and affordable batting cage perfect for any backyard or compact outdoor space. The Xtender's side supports are made out of steel tubing offering complete durability and portability. This is what keeps the Xtender together. The middle arch of the frame is made of flexible fiberglass rod, making for a flexible and durable cage. This allows the cage to take hits all day and be able to bend and not break. But don't worry, each support beam has a rugged foam pad for maximum protection. The Xtender is tied down with six powerful steel stakes, making for an unwavering foundation. The netting around the cage is a 1 inch thick net, assuring that no balls will rip through the net. The Xtender also features a built in harness that easily connects the pitching machine and batting cage together.The Xtender batting cage is the most durable and light weight batting cage on the market at the best price. Don't waste any more money at the batting cage, order yours today!
Xtender 24' Features
Solid Steel & Fiberglass Frame
Foam Padding
1" Nylon Netting
Steel Ground Stakes and Nylon Support Ropes
Built-in Pitching Machine Harness
Works Perfectly with Trend Sports Pitching MachinesBenefits
Fiberglass poles assemble quickly while adding strength and stability
Foam Padding protects frame from damage
1" Polyethylene Netting is durable and strong
Steel Ground Stakes provide rugged support
Specs
Model #: HTR6000BBCNBF
A/C Power
Recommended Ages: 8 years to Adult
One Year Warranty
Real Baseball, Pitching Machine Ball, and Lite-Ball Pitching Machine