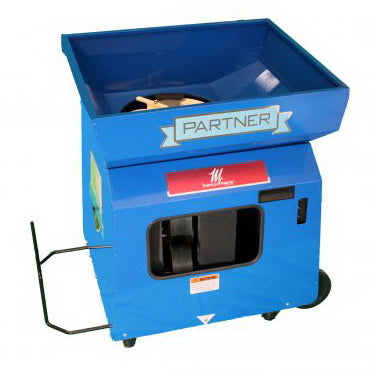 Match Mate Precision Tennis System Partner Automate Tennis Ball Machine
Free Shipping!
Talk to an expert(888) 406-2544
$100 Price Match Guarantee Found a lower price? We'll match it! More info.

Precision Tennis System Partner Automated Tennis Ball Machine by Match Mate
With the same power and accuracy as the PTS, the Match Mate PTS Partner is an affordable alternative.
Reap all the same benefits as the full PTS system and run the same practice drills and stroke sequences but with a smaller price tag.
Both machines are wireless and database driven, while offering an intuitive graphical interface. They both come with the same software that maps out court architecture and has the stroke sequence builder feature. 
So why is this machine $1,000 cheaper? Read on and find out! 
The Difference Between Match Mate PTS and Match Mate PTS Partner Tennis Machines
The main and only real difference between the PTS and PTS Partner is that the PTS Partner can only hold 72 pre programmed sequences, while the PTS can hold an infinite amount. 
You can still program workout packages and stroke sequences to work on your game and you get this for a fraction of the price.
Honestly, most of our customers are quite happy with just the 72 programs, as you can change them as you go. For $1,000 cheaper, this slight downgrade is worth it for most people! 
The Practice Design Builder
PDB offers off-court development.
Wireless synchronization
It is database driven
You can create and edit every Practice Design
You can create and edit every Stroke Sequence
Intuitive Graphical Interface
Set of predefined Practice Designs – Including USTA NTPR 2.5 to 4.5 Rated Practice Designs!
Practice Design can have Multiple sets of stroke sequences
You Specify the PD descriptions
You specify the number of repetitions
You specify the start and delay times
Court Architecture
The court is divided into 12 Columns and 6 Rows, making 3' by 6' rectangles. The PTS can shoot a ball into any rectangle on any programmed operation. Each rectangle has an editable default shot setting.
Each Column alternates even numbers for topspin and odd numbers for backspin with optional default selections for No Spin, Top Spin Lob, Lob, & Moonball! Each of the selected default shots can be edited and tailored to your desire!