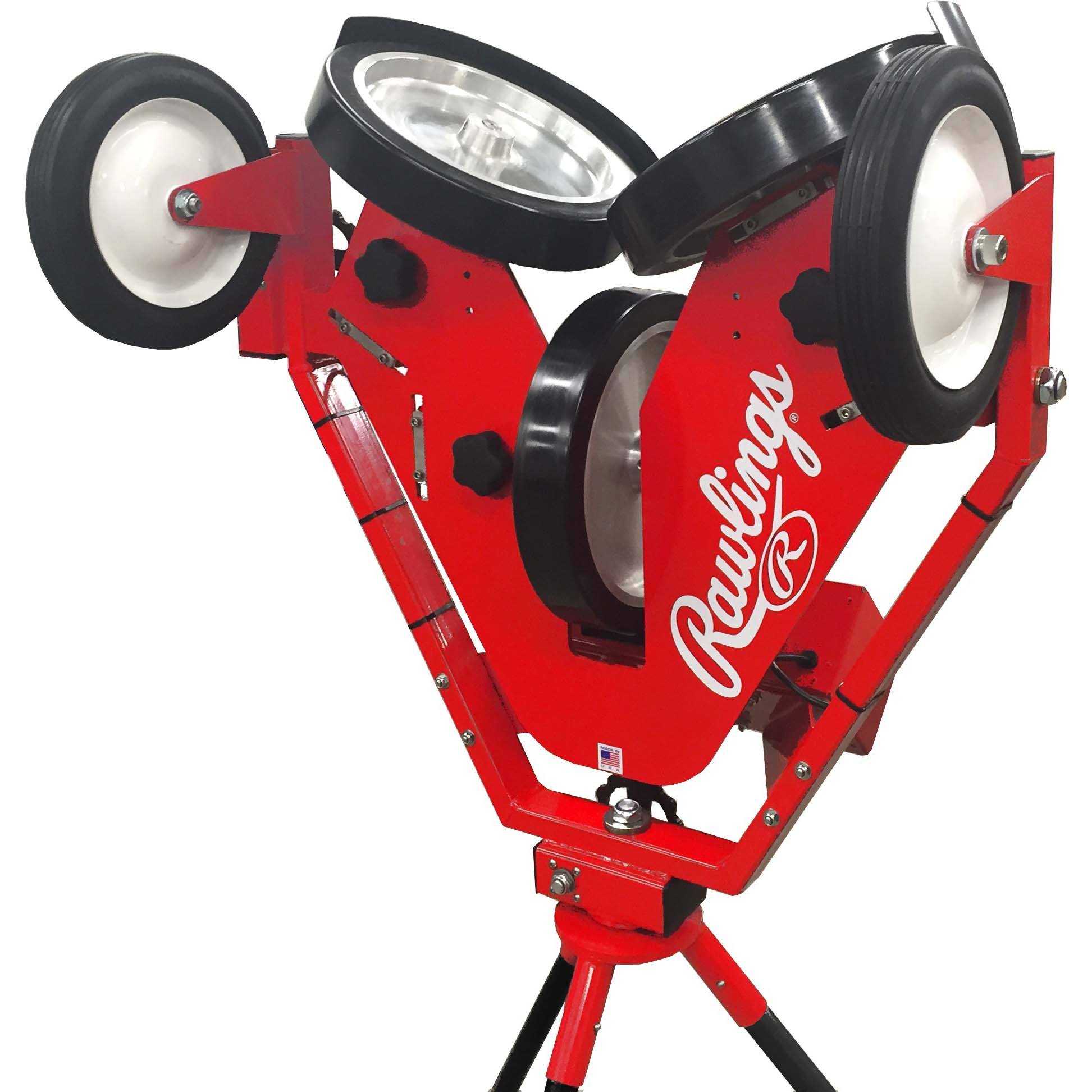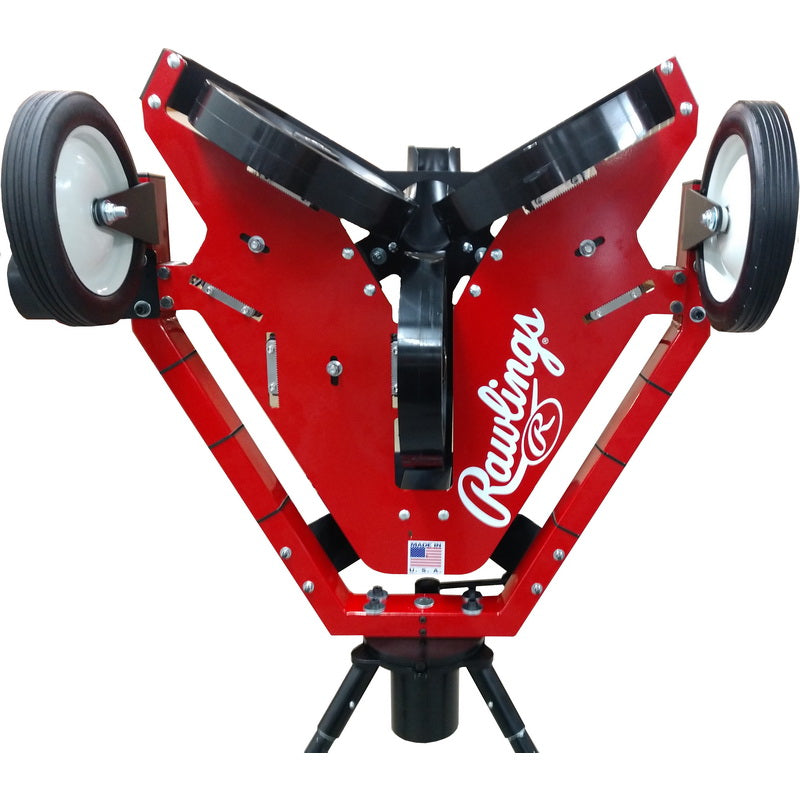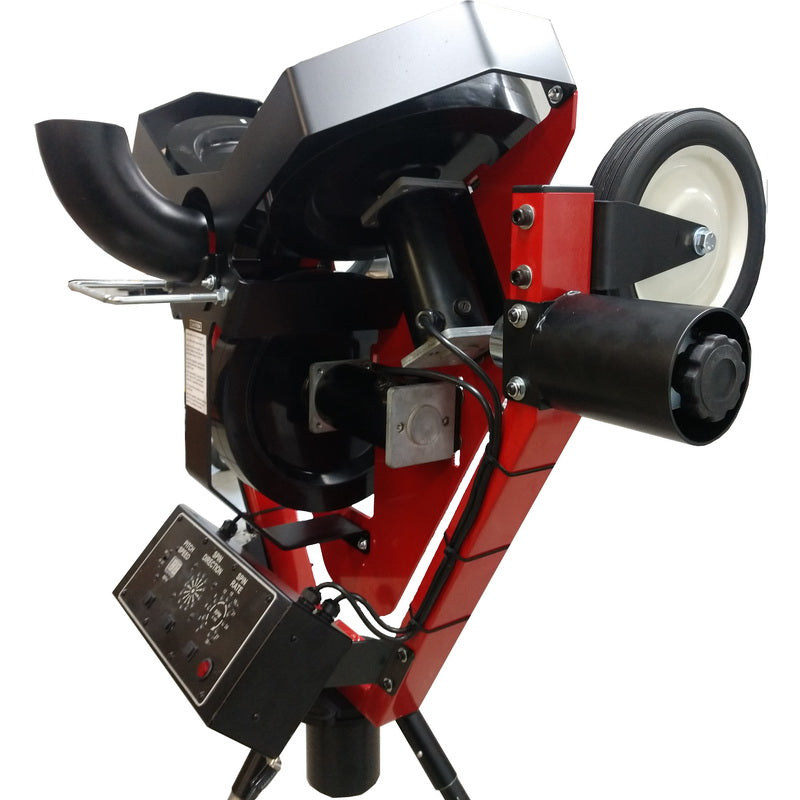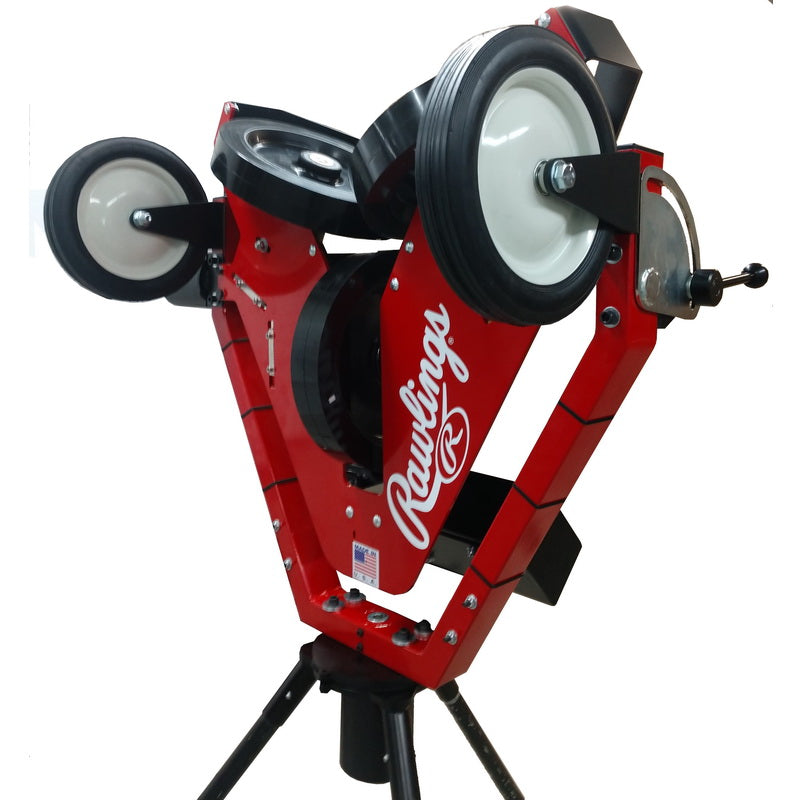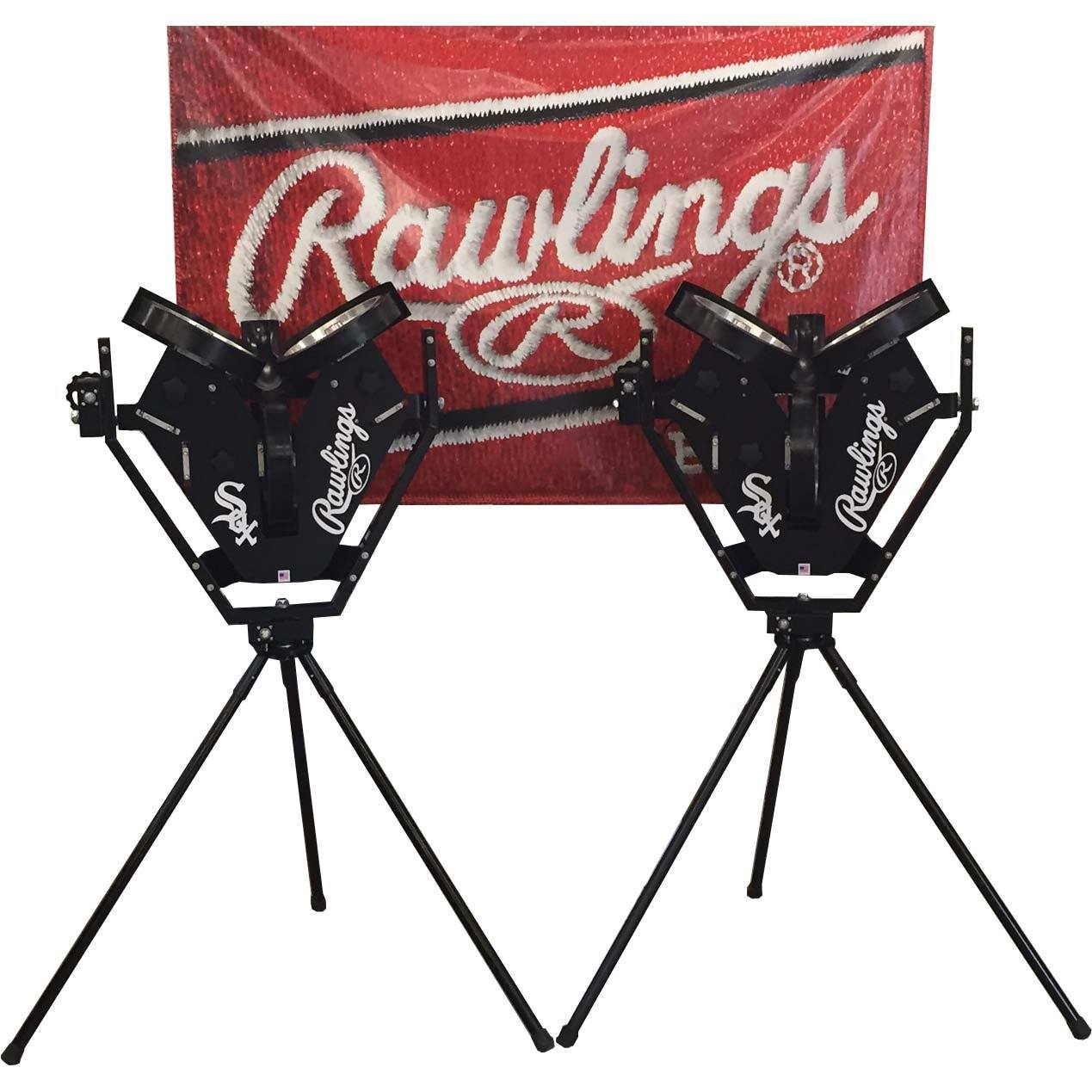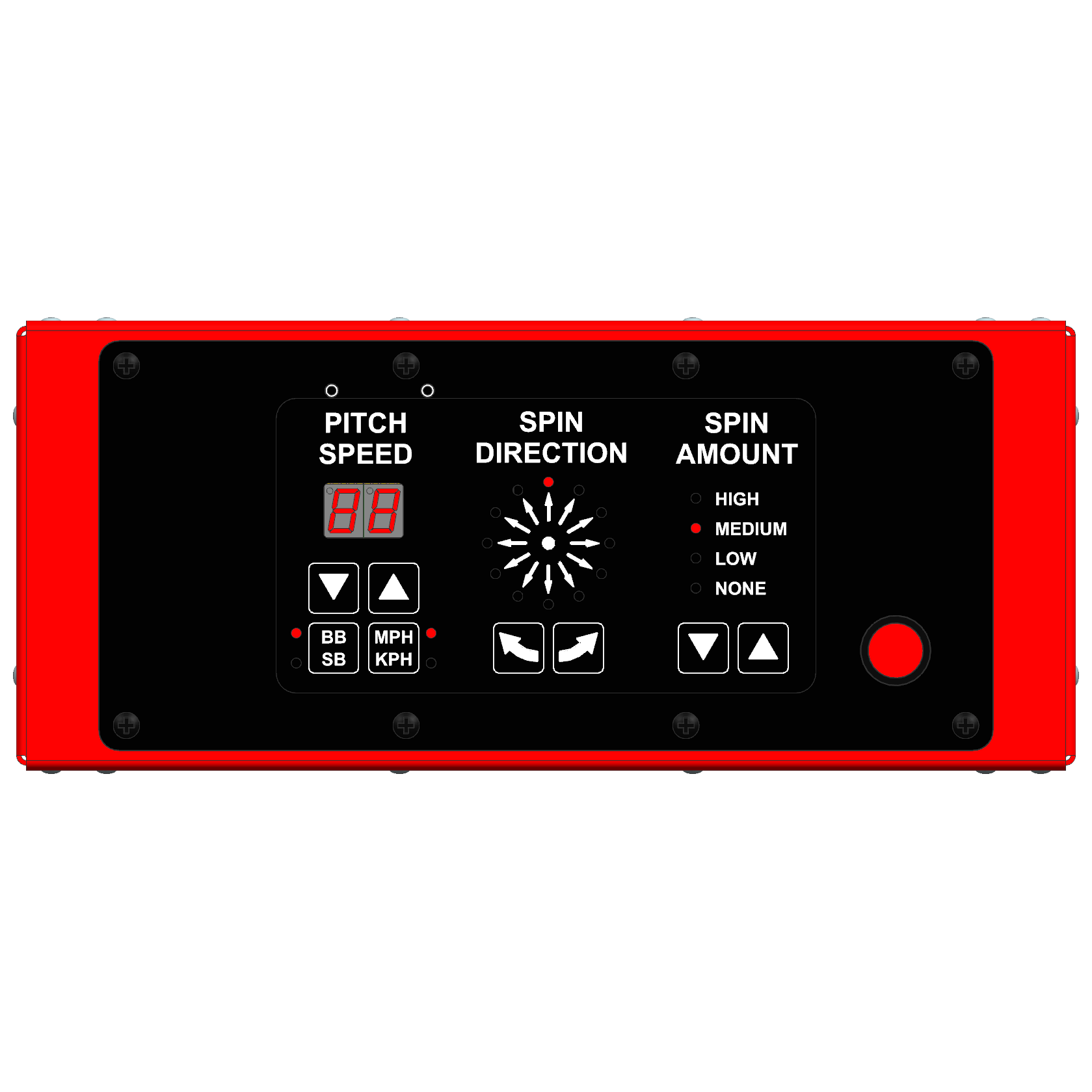 Rawlings Pro Line 3 Wheel Pitching Machine
Free Shipping!
Talk to an expert(888) 406-2544
$100 Price Match Guarantee Found a lower price? We'll match it! More info.

Rawlings Pro Line 3 Wheel Pitching Machine For Baseball, Softball, Or Baseball Softball Combo Machine
Estimated to be shipped in 6 weeks.
A preferred pitching machine of the Oakland A's, St. Louis Cardinals, Cleveland Indians, Texas Rangers and Chicago White Sox, the Rawlings Pro Line 3 Wheel Pitching Machine is truly at the top of its class. Using 3 wheels, all with 1" thick urethane tread, and the iPitch control panel, this pitching machine gives you full control over every pitch. This pitching machine can throw virtually any pitch at speeds from 40-100 Mph with great accuracy. Built with transport wheels as well as with a durable frame, this pitching machine is very portable and durable. Aside from throwing pitches, this pitching machine is capable of doing infield and outfield drills. With an all inclusive pitching machine like that, the Pro Line 3 is a must have for your next BP!
Pitching Machine Features
3 pitching wheels ensure consistent accuracy
Pitching wheels constructed with 1" thick urethane treads
The iPitch control panel allows 37 different types of pitches to be thrown
Throws real baseballs, softballs, or pitching machine balls
Throws from 40-100 MPH
Easy to turn geared knobs to precisely control horizontal and vertical aim
Geared knobs allow for grounders and pop flies
Strong and durable steel legs and construction
Weighs only 120 lbs.
Motor is protected by steel frame
Different models accommodate for baseball, softball, or both! 
Large transport wheels for portability
Made in the USA
5 year manufacturer's warranty
iPitch Control Panel
The Rawlings Pro Line 3 features a state of the art control panel. The iPitch allows you to set the pitch speed, spin direction and spin amount. This allows you to pitch up to 37 different types of pitches, all at different speeds from 40-100 mph! With full control, you will be able to significantly increase the quality of your batting practice and yield awesome results.
Superior Pitching Wheels
The Pro Line 3 features 1" thick urethane tread pitching wheels. This allows for less shock reverberation within the machine and allows for a much faster pitch recovery time. Less recovery time allows more pitches to be thrown with every batting practice session. Most other pitching machines use a 3/8" thick pitching tread which causes more shock to the machine and motor and also causes it to have an 8 second recovery time.
Top Quality Motors
Rawlings industrial grade, American made motors feature oversized, hardened stainless steel shafts to ensure a long life. And unlike competing machines, Rawlings motors are protected by the 1/4" steel frame, not exposed to batted balls. With their machines, one line drive can cost you up to $400 in repairs.
Spin Dial Controls
A thrown ball curves in the direction of its spin. The faster the spin, the more it curves. Fastballs have backspin, which cause them to rise, or at least fall slower than they otherwise would. Sinkers and curves have topspin, causing them to drop. Knuckleballs ideally have no spin at all and move randomly. When you set the spin angle and amount on the control panel, and the machine automatically adjusts the wheel speeds to spin the ball in any direction to simulate virtually any pitch. Just point the knob in the direction you want the ball to spin! See spin dial charts below.
Spin Dial For Baseball
Spin Dial For Softball
*Three optional leg heights provide a realistic release point for any player: 32" for softball, 60" for baseball and 73" for baseball-XL or cricket.*
Click here to download the Rawlings Pro Line 3 Wheel Pitching Machine owner's manual!