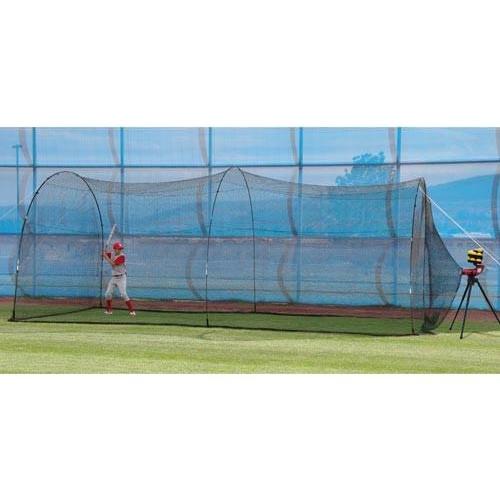 Slider & Power Alley 22' Batting Cage
Free Shipping!
Talk to an expert(888) 406-2544
$100 Price Match Guarantee Found a lower price? We'll match it! More info.

Slider & Power Alley 22' Batting Cage
The Slider Lite-Ball Pitching Machine from Trend Sports pitches fastballs, inside breaking balls, and outside breaking balls. The powerful A/C motor throws lite-balls at variable speeds up to 60 miles per hour. The Slider also includes an automatic ball feeder that holds 12 lite-balls. Just turn on the feeder and each ball is dropped into the Slider pitching machine every 9 seconds. Take batting practice without the need for another player. And with a simple swivel adjustment you can also hit fastballs and curve balls. Plug the Slider into any standard wall outlet or use it with the optional RollingPower battery pack for convenience. Slider
Features
Pivot Head Design
Variable Speed Control
Pitches Baseballs Up To 60 MPH
Fully Enclosed Wheel
Adjustable Pitch Height
12 Ball Automatic Feeder
Tubular Steel Legs with Rubber Tips
Uses Standard A/C Power
Adjustable Speed Control adjusts for a variety of pitch speeds
Fully Enclosed Wheel provides maximum safety
Pivot Head Design Pitches Curve Balls
Bonus Auto-Ball Feeder pitches every 9 seconds
Strong Steel Legs for stability
Also Included: PowerAlley Home Batting Cage, the most affordable and revolutionary batting cage ever developed for improving your hitting at home. Take hit after hit without the hassle of chasing down every ball and watch your batting average soar with your own home batting cage. The Trend Sports® PowerAlley Home Batting Cage delivers innovation and quality in an affordable batting cage right to your own backyard. Built for ease-of-use and durability the PowerAlley sets-up in minutes. The unique fiberglass pole design, strong 1" nylon netting, and steel ground stakes provide unusual strength and support along with the flexibility to withstand the elements. Measuring 22 feet long, 12 feet wide, and 8 feet high the PowerAlley is the smartest batting cage for home or club use.
PowerAlley Features
Solid Fiberglass Frame
1" Nylon Netting
Steel Ground Stakes and Nylon Support Ropes
Built-in Pitching Machine Harness
Works Perfectly with Trend Sports Pitching Machines
Fiberglass poles assemble quickly while adding strength and stability
1" Nylon Netting is durable and strong
Steel Ground Stakes provide rugged support• Built-in Harness connects easily to pitching machine
Specs:
Model #: SL359
A/C Power
22 ft. Long, 12 ft. Wide, 8 ft. High
Recommended Ages: 8 years to Adult
30-Day Money Back Guarantee - One Year Warranty
Lite-Ball Pitching Machine & Home Batting Cage