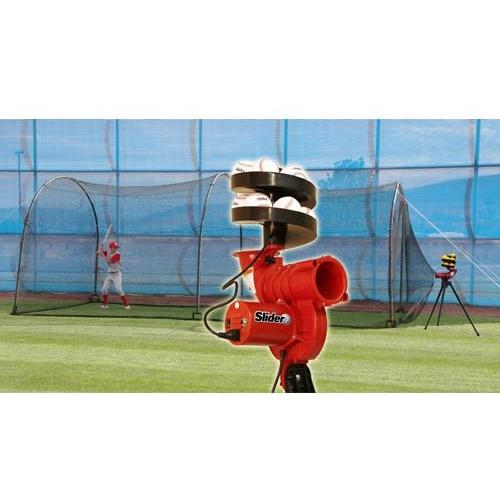 Slider & Xtender 24' Cage
Free Shipping!
Talk to an expert(888) 406-2544
$100 Price Match Guarantee Found a lower price? We'll match it! More info.

Slider & Xtender 24' Cage
The Slider Lite-Ball Pitching Machine pitches fastballs, inside breaking balls, and outside breaking balls. The powerful A/C motor throws lite-balls at variable speeds up to 60 miles per hour. The Slider also includes an automatic ball feeder that holds 12 lite-balls. Just turn on the feeder and each ball is dropped into the Slider pitching machine every 9 seconds. Take batting practice without the need for another player. And with a simple swivel adjustment you can also hit fastballs and curve balls. Plug the Slider into any standard wall outlet. Amazing All-In-One Package Makes Set-Up A Breeze! The Xtender Batting Cage is the most revolutionary batting cage ever developed! Never before have you been able to purchase a complete batting cage and have it shipped directly to your door via UPS.
The secret lies in the frame design and netting. First, the frame's side supports are made of steel tubing to give the frame durability and maximum swinging area for the batter. Second, the middle arch of the frame is made of flexible fiberglass rod. This rod allows the cage to flex in the wind without bending or breaking. Third, the six power stakes are staked into the ground to give maximum frame support. Fourth, a rugged foam pad slides over each frame support to protect the frame from balls. Fifth, the extra strength catch net is made of 1" netting compared to 2" netting used on other cages. This smaller netting provides twice as much strength in the same amount of space. And because you can connect Xtender cages together, you can increase the length of your cage just by ordering another Xtender Cage. Don't let another day go by without owning your own batting cage. The Xtender comes with a 30 day money back guarantee and 1 year limited warranty. Order yours today!
Features
Pivot Head Design
Variable Speed Control
Pitches Lite-Baseballs Up To 60 MPH
Fully Enclosed Wheel
Adjustable Pitch Height
12 Ball Automatic Feeder
Tubular Steel Legs with Rubber Tips
Uses Standard A/C Power
Solid Steel & Fiberglass Frame• Foam Padding
1" Nylon Netting
Steel Ground Stakes and Nylon Support Ropes
Built-in Pitching Machine Harness
Works Perfectly with Trend Sports Pitching Machines