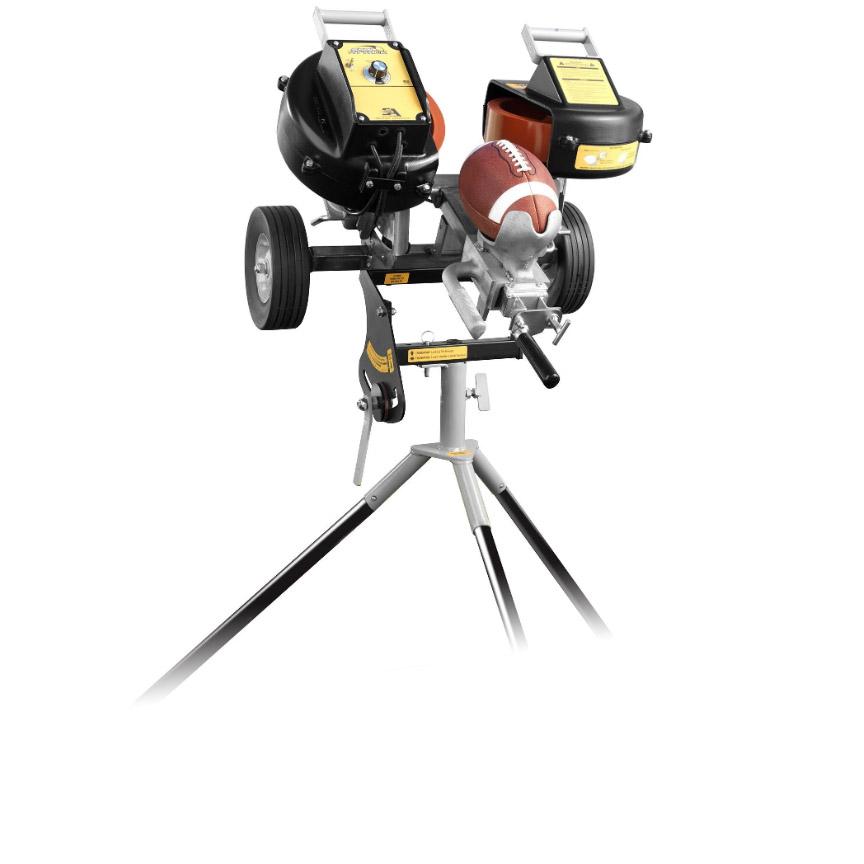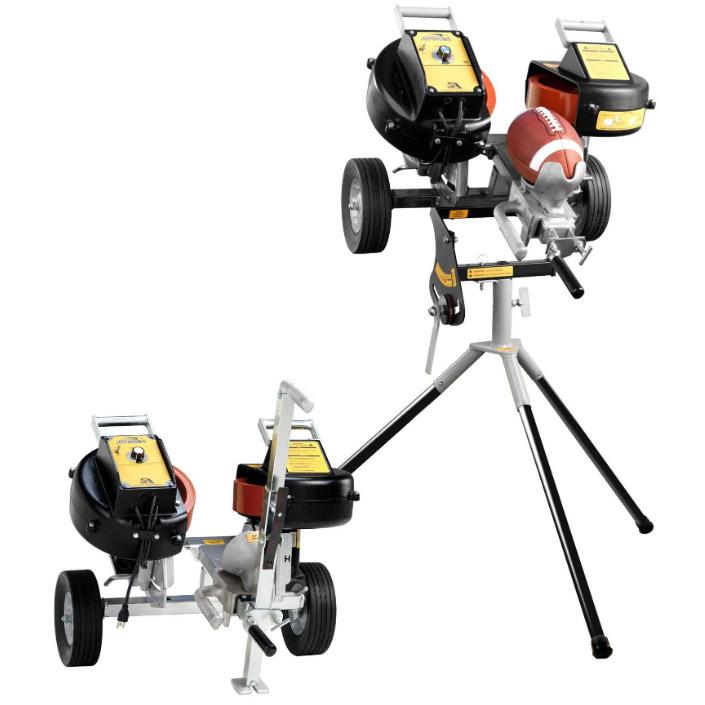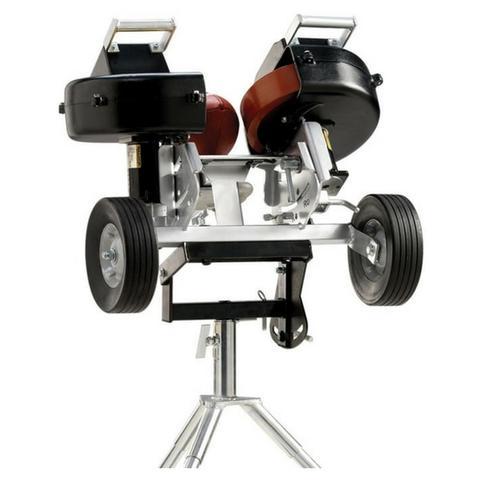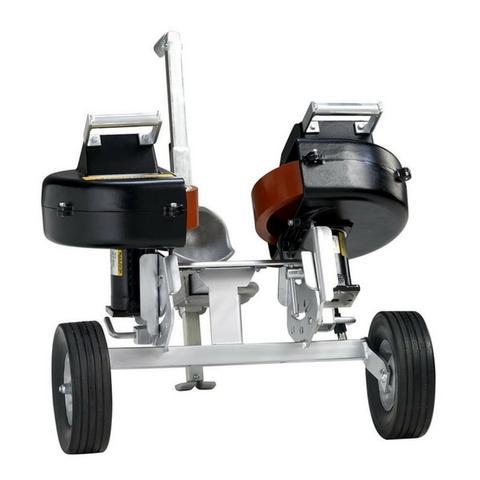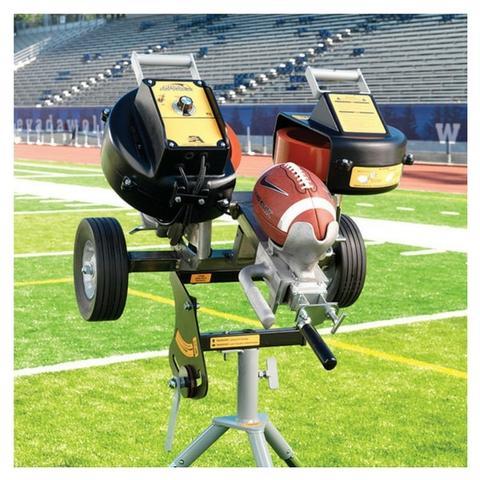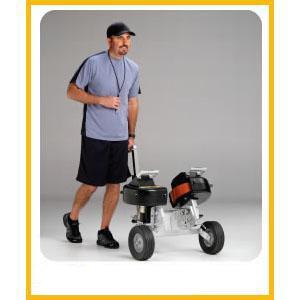 Snap Attack Football Training Machine From Sports Attack
Free Shipping!
Talk to an expert(888) 406-2544
$100 Price Match Guarantee Found a lower price? We'll match it! More info.

Sports Attack Snap Attack Football Machine
Designed by football coaches, the Snap Attack football training machine is a snap, pass and kick machine that will maximize your time on the most difficult to practice phases of the game.
Universal cradle positions the ball for either passing, punting, snapping or kick-offs. (No second cradle required for kick-off.)
Loosen lever clamp half turn, pull locating pin back, and rotate throwing head to one of three exact positions to determine right or left pass/punt or end-over-end. Locating pin and holes instantly eliminate trial and error. Handles safely facilitate tilting of wheels to locate and lock throwing head into desired position.
Two high-powered motors provide instant recovery, allowing rapid repetition and combination of drills. No waiting for wheels to come back up to speed.
Passing stand allows throwing head to pivot instantly in any direction, accurately throwing passes, punts and kick-offs to any location on the field. Operators can lead receivers or spot punts or kick-offs precisely for both returns and coverage. Elevation changes are quick and easy. Machine can also be locked in for precise repetition.
In lowered position at ground level at realistic angles, machine snaps ball to any depth in shotgun and pistol formations, extra points and punts.
Solid guarded wheels are specially-designed for minimal wear and last the life of the machine with no need for pressure changes.
Forces quarterbacks to focus on catching the ball in snapping position for shotgun and pistol signal drills helping to eliminate fumbles in game conditions.
For extra point practice, it creates realistic timing as holder must focus on catching snap before placing ball. Also improves timing of kicker as he must time with snapped ball and holder.
Provides opportunity for holders and punters to practice against bad snaps.
Unit quickly moves on and off field; just tilt it, unsocket legs and easily roll it on two transporting wheels.
Controller is accessible, visible and safely away from throwing wheels.
Cast aluminum throwing wheel guards protect players, coaches, fingers and hands during operation.
Accessory remote automatic feed allows coach to control tempo of practice. Ball is snapped, passed or kicked on coach's command. Remote can be changed back to hand-feed in seconds.
No assembly is required. Unit arrives fully assembled and ready for your immediate use.
Rapid fire and multiple ball drills are part of the Snap Attack's repertoire. The two independently running electric motors create not only a near instantaneous recovery time, but furnish enough power to put the football anywhere on the field. 
The Snap Attack Football Machine's solid polyurethane throwing wheels firmly grip the ball for an accurate spin. The wheel guards protect arms from potential wheel burns as well as help to keep the wheels as dry as possible in inclement weather.
On the passing stand, the Snap Attack can pivot instantly in any direction, accurately throwing passes, punts and kickoffs to any location on the field. In the lowered position at ground level and realistic angles, machine snaps ball to any depth in shotgun and pistol formations, extra points and punts.
No second cradle is required for kickoff.!

Shotgun (5 yards) – 7 on 7 drills
Realistic Reps Without The Center
No-back offense (5 yards)
Snaps to halfbacks (5-6 yards)
Quick kick (7 yards)
Short punt (7 yards)
Extra point (7-8 yards)
Long snap (14-15 yards)
Bad snaps ("Fire calls")
Countless Reps Without A Quarterback
Interception drills
Tip drills
Harassment drills (avoiding completions)
Defensive drills
Versus zone defenses
Prevent
Last two plays of game (versus 'Hail Mary') Precise Reps Without the Quarterback!
Offensive drills
Coming to the ball – Sideline (out), Curl (hook) and Slant
Deep Passes
Squib kicks
Pooch kicks
Onside kicks
Punt return
Kick-off return
Long punts
Quality Machine Construction
Aluminum casting is light, strong and weather-proof.
Steel-plated frame for strength and weather-resistance.
Solid polyurethane football wheels provide tight spiral, long distance and accuracy and minimize marking and wearing of balls. No air pressure required.
Two extra-wide solid transporting wheels make moving machine on and off field easy.
Extra-wide tripod base insures real stability and safety.
Two powerful variable speed motors drive two indestructible football throwing wheels.
Maintenance free! All bearings are sealed and good for life of motor.
5 year manufacturer's warranty!
Click Here To Download The Snap Attack Manual